EUROBUS offers you reliability, specialist competence, friendly personnel, personalised consultancy, a modern and diverse vehicle fleet as well as round-the-clock on-call emergency service. Find out hereunder the steps we undertake in order to excel in quality matters:
Guarantee Fund of the Swiss Tours and Travel Operators
EUROBUS is one of the few coach operators that is member of the legally regulated Guarantee Fund of the Swiss travel industry. The money you have paid for your journey is 100% secure. EUROBUS satisfies all regulations of Swiss package tours law. Tour operators such as Eurobus, who sport the Travel Guarantee Logo, assure you, the customer, of the following:
Professional work approach
Healthy financial basis and valid third-party insurance
Protection of all money paid towards your journey
Return travel arrangements in case of insolvability of one of the member enterprises
You can therefore proceed with payment to us without worries. The money paid is 100% secure. If any operator were to become insolvent while you are on holiday, the Guarantee Fund will take care of your journey back home. Eurobus has been member of the Fund since its inception.
The Guarantee Fund was establishes by the Swiss Association of Travel Agents (SRV) in the form of an independent foundation. All large Swiss tour operators such as Kuoni, Hotelplan and Imholz belong to it. The foundation board consists of seven representatives of travel companies of various sizes and from different branches and regions, as well as consultants. A total of approx. 1,400 service providers or travel sales agents from Switzerland and Liechtenstein partake in the fund. They have been vetted for specialist competence and solvency according to the parameters specified by the foundation.
For further information concerning the Guarantee Fund you can address yourself to the following bodies any time:
EUROBUS Headquarters, Windisch: +41 56 461 61 61
Guarantee Fund of the Swiss Association of Travel Agents, Zurich: +41 44 488 10 70


EUROBUS is member of «Car Tourisme Suisse», the union of trustworthy Swiss coach operators.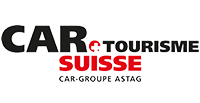 Seit Jahren arbeitet EUROBUS mit der Non-Profit-Stiftung myclimate zusammen und unterstützt so wichtige Klimaprojekte. Nicht nur im Ausland, sondern auch in der Schweiz wirkt das Klimaschutz-Engagement von EUROBUS und beteiligt sich so an Förderprogrammen für Elektrobusse, Solaranlagen und vieles mehr. Bei EUROBUS haben Sie die Möglichkeit, die CO2-Emissionen Ihrer Busreise komplett zu kompensieren und so einen wichtigen Beitrag für die Umwelt zu leisten.